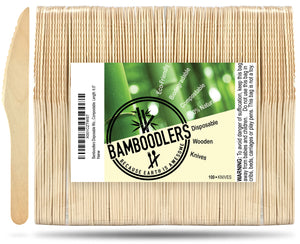 bamboodlers
Pack of 100 Knives
Sale price Price $23.98 Regular price
Click here to enjoy an exclusive 50% discount at Amazon.com!
Need knives? Cut yourself some BPA slack with this pack of 100 Bamboodler knives. They are perfect for your next party, camping trip, or any other food trip that you have in mind. Picture them on your table setting and imagine all the compliments you'll receive from your friends. Yep, Bamboodlers look awesome on tables, but they look even better in your hands! They are guaranteed to make you 60% cooler (minimum) and all that while saving the world. Get them now! not later, not tomorrow, but right now! Because the longer you put it off, the greater the chances that you'll end up with BPA-infested, cheap looking, Earth destroying plastic knives. You can save yourself the hassle, save your loved ones, and save the planet by getting Bamboodlers now!
Knife Length: 6.5 inches
Count: 100 Knives
Package Dimensions: 9 x 7 x 1 inches
Shipping Weight: 9.6 ounces
Shipping Fee: $10 for orders up to 11 pounds (U.S. only)
Delivery: You'll get them in 3 to 8 days depending on your location. (U.S. only)
You are purchasing a pack of 100% All-Natural, BPA-Free, Eco-Friendly, Biodegradable, and Compostable 100 disposable wooden knives.
Click here to enjoy an exclusive 50% discount at Amazon.com!